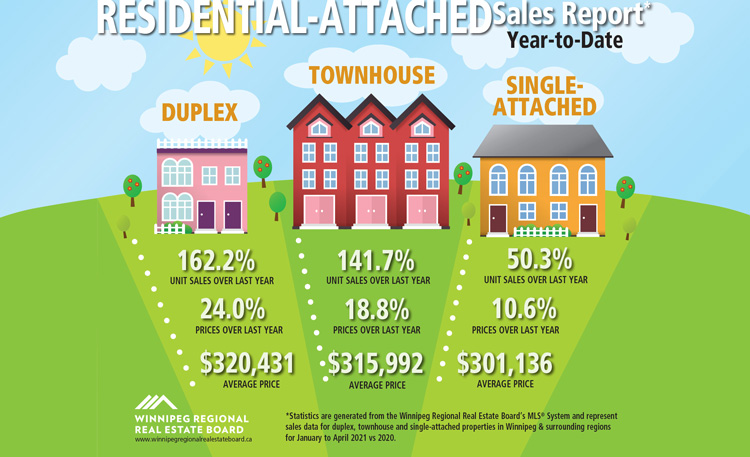 For the first time in the history of monthly MLS® sales, the Winnipeg Regional Real Estate Board's April sales tipped over the 2,000 threshold. The 2,055 sales in April edged out last month's sales of 1,975 and are up 53% over the 5-year average for this month. Dollar volume set a new record monthly high as well in April with $678.3 million transacted in sales — a 65% rise over this month's 5-year average.
The 2,615 listings remaining at month end are down 41% from the same time last year despite a dramatic fall off in new listings entered in April 2020 due to the pandemic economic shutdown. The good news is that year-to-date cumulative listings of 8,066 represent a 10% increase over 2020 and are less than 1% behind those entered in 2019.
In April, 78% of active MLS® listing supply turned over — and for single-family homes it was an astounding 131% — leaving less than a month's listing supply going into May.
There were a number of MLS® areas throughout the entire Winnipeg Regional Real Estate Board's market region where there are as many single-family home sales or more than the number of listings remaining at the end of April. River Park South had 31 sales with only 5 listings left for sale while St. James also had 31 sales with only 10 listings available for sale at the end of April.
Two MLS® areas in the first four months have had more sales than new listings entered this year. Transcona MLS® area has 82 sales versus 81 listings while the RM of Ste. Anne has 47 sales — 6 more than what has been listed in 2021.
"Rapid sales are depleting our listings quicker than we can replace them," said Kourosh Doustshenas, president of the Winnipeg Regional Real Estate Board. "Our average continuous days on market for single-family home sales in April was three weeks and for sales from $350,000 to $399,999 it was just 2 weeks."
Year-to-date MLS® sales after 4 months are 6,197, a 76% gain over the same period in 2020 while dollar volume of $2.0 billion increased 96% compared to 2020. The conversion of listings to sales is another metric indicating a supercharged market with 77% of all listings being sold. In the previous 5 years, this percentage has never attained 50% and you have to go back to 2004 and 2005 when the conversion percentage was as high as it is this year.
"Clearly, 2021 is a year like no other with buyers actively engaged in our regional market to place offers on many different property types and a wide spectrum of price ranges," said Doustshenas. "Condominiums have seen the biggest gain thus far with a 115% increase in sales over the same period last year."